Hi Everyone!! I have a huge update for you today! I have been very busy going through my older works of art, and decided it was time for a much needed art spring cleaning!! I have been going through my personal ORIGINAL finished paintings stash and have come up with some pieces that I kept for one reason or another, and have decided that it's time to let them go so that they can bring joy to someone else in the world!! As well as to make extra room in my painting space! lol!
All of these are listed in my EBAY STORE. I have set a buy it now price, however, I am completely open to any reasonable/best offers.
The first one is called "Angel of Destiny"
a 10 1/4 x 14 1/8 inch ORIGINAL mixed media painting
. She is a beautiful angel with fantastic pink wings!!
Created in 2007, this is one of my favorites!! An Angel in all her glory bathes the forest in light! A little demon has to hide from the glory of it all! The light is just too majestic and infused with good!!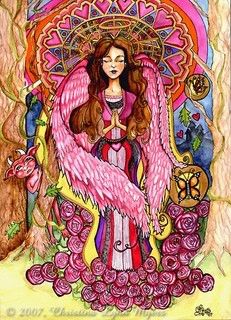 "Angel of Destiny" ORIGINAL PAINTING
The second one is called "LadyBug".
It is a gorgeous nice sized 12"x16" inch richly colored original acrylic painting on Canvas Sheet. This beautiful ladybug inspired fairy is a painting I created in 2007. She is the QUEEN of the Ladybugs!!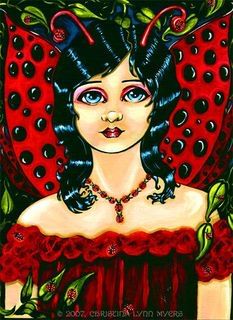 "LadyBug" ORIGINAL PAINTING

The third one is called "Prayer of Protection". 10 1/4 x 14 1/8 inch BEAUTIFUL ORIGINAL mixed media painting on Arches watercolor paper. Created in 2006, One of the few dark angel pieces that I have done. This original has red foil hearts burned all over the bottom of the painting. The foil shapes are burned on in Red, Silver and Gold!! This painting is based on the idea of Praying for Protection while we are going through the most deeply painful circumstances.
"Prayer of Protection" ORIGINAL PAINTING
Phew... ok those are all the larger originals that I have for you right now. Now onto the ACEO's that I have for you! I have 2 ACEO's to be exact that I just posted on EBAY, both are auctions, both start at only $6.99!!
The first ACEO that I have is to celebrate St. Patricks Day!! The name of this ACEO is called "Irish Eyes"! A 2.5x3.5 inch ORIGINAL painting/art trading card, this spunky leprechan has just found out he's got the luck of the irish!! :))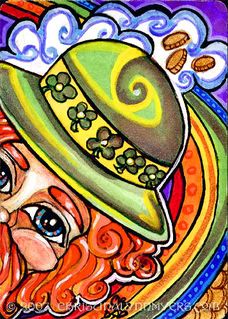 "Irish Eyes" ORIGINAL ACEO
The second ORIGINAL ACEO created in 2008, is from my Alice in Wonderland ACEO collection!! This is the cheshire cat!! A 2.5x3.5 inch ORIGINAL painting/art trading card.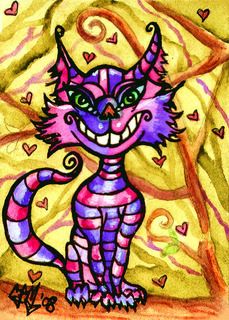 "Cheshire Cat" ORIGINAL ACEO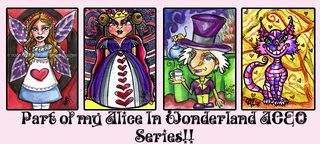 Cheshire Cat is part of my Alice in Wonderland ACEO series! All these characters shown have already been sold.. All except the cheshire cat! :)
See all my current originals
for sale on EBAY here!!
Next I have done a huge update on my Zazzle store!! I have added all sort of products to the mix!! T-shirts, mugs, tote bags, stamps... you name it.. I probably added it! Here is just a sampling of some of the cool new stuff I added!!

Pearl Pretty Green Mermaid Mug
by
sunkitty7
Design
Travel mugs
With
zazzle
View more
Fantasy Mugs

Autumn Sun Pretty Fairy Vintage Tee
by
sunkitty7
Design a
Customized T Shirt
At
www.Zazzle.com
Browse more
Clothing T-Shirts

Red Baby Dragon Cute Animal Vintage Tee
by
sunkitty7
Buy
tees
at
Zazzle.com
View more
Clothing T-Shirts
These are just a small taste of all the new stuff that I have added!! Come visit my Zazzle shop to see more!!
http://www.zazzle.com/sunkitty7
Okay!! Well that is just about it for now! I am still going through my painting stash, so there should be some other things that I will be listing. But that will do for now! ;)) lol!
While I have been listing all of these things, I have also been working on a new 16x20 acrylic painting, and completely redesigning my website... so keep a look out for updates on these projects as well. I plan on putting the new painting up for auction as soon as I finish it up... I'll try to finish it soon!! Until then everyone have a great St. Patty's and be safe!!
Love with LOTSA Hearts!!!~Christina